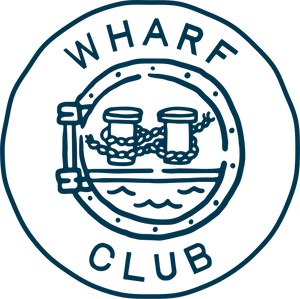 Wharf Club: Canister Refill Every Month
Welcome to the East Pole Wharf, where many a ship comes into port and where sailors and merchants come to purchase their wares before going out to brave the salty sea known as "I-85."
If you have an East Pole canister, you're eligible to join Wharf Club! Bring your canister into the roastery — that's our Armour Yards location on Ottley Drive! —  the first Tuesday of every month and get it refilled with freshly roasted coffee. 
Wharf Club FAQ:
Every month, you'll receive an email from our team alerting you that your coffee is ready to be picked up. Anytime that week, bring in your East Pole canister, give the barista your name, and–voilà– your beans will be brought out to you on a silver platter to be poured into your reusable canister.
What do I need to do to join?
Two things, in either order:
Join Wharf Club on our online store
Buy an East Pole canister from our coffee bar or online store. 

Note: your canister is your membership card for the Wharf Club. Right now, club membership is limited to those with an East Pole-branded canister. 
How do I know when to come get my refill?
You don't need to keep track- you will receive an email informing you that your coffee is ready. But an easy way to plan ahead is to mark your calendar for the first Tuesday of every month.
Note: If the first Tuesday of the month is also the 1st of the month, pickup will be pushed to the following Tuesday. 
What if I forget/lose my canister?
That would be tragic... just make sure that you bring something to put your beans in! If you need to, you can purchase a temporary canister to take your beans home with you.
Can I just buy the canister and not join Wharf Club?
Can I request a specific coffee?
No. Our head roaster chooses the coffee for Wharf Club, just like for every other club. You'll get a wide variety of Cental American, South American, and African coffees, and we're sure you'll enjoy each and every one! 
What other perks do members get?
Good question! Extra perks include:
A free drink of your choice on refill day. Any drink on the menu!
Anytime you come in to refill your canister between refill days, you get $2 off the price of whichever coffee you choose. (Note: this applies to refills from our unbagged coffee stock – not bagged coffee.) 
Events planned just for you like Q&As with our staff and cuppings, and early announcements about our public events
Note: Wharf Club currently operates out of our Armour Yards location only.