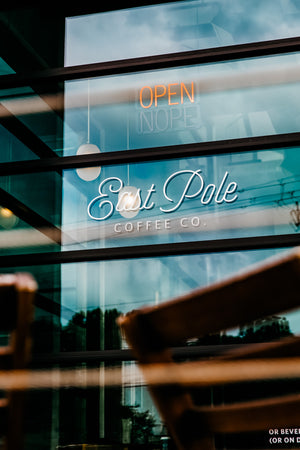 East Pole goes west (and around the corner, too)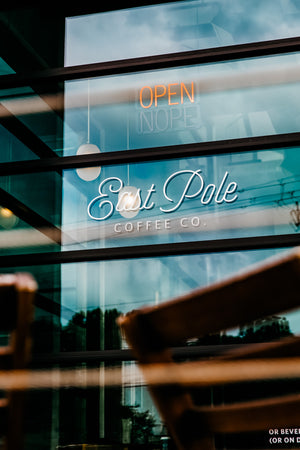 The short version:
We're Opening New Locations in Atlanta and Birmingham!
The details:
East Pole is expanding to three locations by early 2022, with a new shop in Birmingham and one in Poncey-Highlands.
The Birmingham location will be in The Denham Building, a mixed use development from Third & Urban that will include restaurants, office and retail space, and loft-style apartments. We're excited to expand to such an exciting, fast-growing city. Address: 
East Pole Coffee Co.'s second Atlanta location will be in the Plaza on Ponce, which includes established Atlanta destinations like Majestic Diner, Plaza Theatre, Urban Outfitters, and Southern Belle. We'll be in very good company down there, and we can't wait to serve you. 
And that's not all...
Both the Poncey Highlands and Birmingham locations will also offer longer hours, transitioning in the evening into a wine bar with a focus on natural and biodynamic wines. Our team loves wine and the culture around it, and we're thrilled to be able to combine our love of wine, coffee and hospitality for our customers.
Answers to questions that we believe will be frequently asked:
Which location will open first?
That's to be determined. We are awaiting to begin buildout on both spaces and should have clearer timelines by mid-summer. 
Will you be roasting at either location?
Nope, at least not off the bat. Our intention is to keep our Armour Yards location as the exclusive roastery for the time being.
Will you have a kitchen at either location?
We will have a more robust food program at both locations but we will have a kitchen in neither.
Why Birmingham?
Two primary reasons: We had an opportunity to expand our relationship with the Third & Urban team, who gave us our shot at Armour Yards, by leasing a space in their Denham Building project. And Birmingham is hella cool! There's an amazing existing specialty coffee (and culinary and brewery and beverage) scene there, and we thought it would be cool to be a part of that.
Why Poncey Highlands?
Why not though? Super cool neighborhood with super cool businesses –– many that have been around for a long time. Easy access off of Ponce De Leon and Highland. Proximity to places like Manuel's Tavern and Majestic Diner and Sweet Auburn Barbecue and Elemental Spirits. Lots going for the area. 
Will you have a sea-foam espresso machine at these locations too? And a diver helmet? And ––
We don't know yet. You're pretty nosy though, wow. Hold your horses. Then, in a few months, ride em' down 20 to Birmingham and down Monroe to Poncey Highlands to find out for yourself.
Thank you for your support!
Obviously, none of this would be happening without the loyalty of our customers, and we're so grateful. We're hoping to begin the buildouts of both of these locations soon, and we'll keep you updated on our progress.
 Cheers!