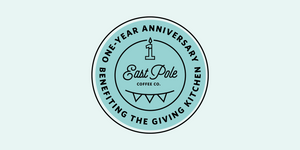 One year in our coffee bar and roastery! (Come party with us)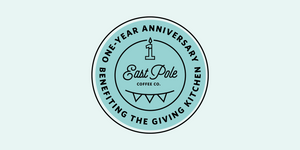 East Pole isn't one year old. It's four years old. But one year ago this week, we opened our coffee bar and roastery at 255 Ottley Drive, in Armour Yards. When we opened, we wondered if we'd be able to draw people from outside of our oft-forgotten little industrial horseshoe. We assumed we'd be dependent on the businesses nearby. And we were wrong. Over the last year, we've continually been surprised by how many guests show up –– passionate about coffee and eager to return. Thank you. We're excited to grow in year two, serving you better and enjoying new delicious coffees. To celebrate, we decided to do what we do best:
throw a party
. And we decided to have all ticket sales go to
Giving Kitchen
. We called up our friends at ASW Whiskey, Creature Comforts, Bocado, and Happy Camper and asked if they'd want to party with us. They said yes. And we also called up some entertainment: Mason Gentry and Wendlo to play live music. Come party with all of us, and celebrate a year –– all for a good cause.
When? Friday, Sept. 14 from 7-11 p.m.
Tickets: $15 online | $20 at the door
What? Coffee, beer, food, music, fun –– all included in the price of a ticket
More than a one-night thing...
There's more! Before our party Friday, our neighbors are throwing a pre-party. Head to SweetWater from 4:20-7 p.m. to sip on a one-of-a-kind East Pole + SweetWater IPA. They'll be adding our naturally-processed Foge Village to their IPA to get everyone ready for the night's festivities. And the morning after, on Saturday, we've got more planned –– a pop-up with our friends at Whiskey Bird from 10:30 a.m. to 1 p.m. and a cupping at East Pole at 10 a.m. Thanks for everything over the last 360-something days. We hope you'll celebrate them with us this weekend. Here's to many more great days (and weekends) at 255 Ottley.