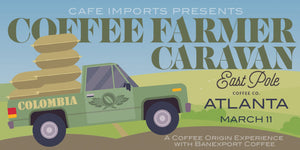 Origin(al) experiences: Hanging out with coffee producers at East Pole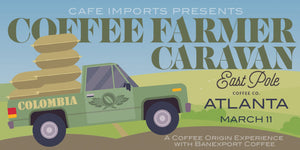 If you've ever wanted to get up close and personal with actual coffee producers, this could be your moment.
On Wednesday, March 11,
we are hosting
two
really cool origin-centric events, and we hope you'll join us for one (or both). - First,
at 10 a.m.,
our friends from
Seeds Coffee Co.
in Birmingham will be rolling through with a Guatemalan producer they've been working with for the last six years –– the Villatoro family. We'll be cupping their coffee (roasted by Seeds) in our roastery and all are welcome to join.
Please email marvin@eastpole.coffee and cc: blake@seedscoffee.com
to lock in your spot at the table. Put
"Guatemala cupping"
in the subject line. All are welcome.
Find more info on Seeds and the Villatoro family below.
*** - And secondly, our friends at
Cafe Imports
in Minneapolis will be rolling through Wednesday evening, along with
Banexport
from Colombia as part of their Coffee Farmer Caravan. Join us at 6 p.m. for some brilliant Colombian coffees
plus
SweetWater beer and hors d'oeuvres.
For free.
This will be an open-forum tasting and networking event, meant to get guests talking with producers, exporters, and importers.
RSVP here (free) >
PS: All are welcome; RSVPs will help us to order the right amount of food and beverage! ***
More info on Seeds + the Villatoro family, from Seeds:
Over the past six years, Seeds has spent time building a relationship with the Villatoro family in Huehuetenango, Guatemala. What we have learned from this endeavor has shaped the way we see coffee and brought new insight into the responsibility we as coffee roasters have in the supply chain. We see awareness for equitable trade and responsibility growing in our industry. More so, we are initiating a model for trade which will help bring respect and honor to the way coffee is traded.
Our goal this year is to front the money (paying straight into the producer's bank) for two containers (550 bags) and handle all warehouse and freight logistics on US soil. We will be laying the groundwork for a higher capacity in fronting producer payments, increasing the number of coffees and containers, and nailing down the logistics of importing green coffee. Our vision is that roasters would have more buying power and producers more selling power. This can happen. Producers are not the barrier to roaster success and purchasing power and vice versa. Coffee is not a zero-sum game.
The beauty of this new initiative is that the groundwork for excellent, consistent coffee and supplier relationships has been laid. Even more so, the desire for us to take action came from the producer.
Producer details
Region: Cuilco, Guatemala (Huehuetenango)
Varietals: Caturra, Bourbon, Pacamara, Maragogipe, and Geisha
Elevation: 1,500-2,000 meters above sea level
Processing methods: Washed, natural, and anaerobic fermentation