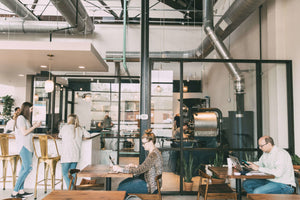 We're extending our coffee bar hours: Now open until 5 p.m. everyday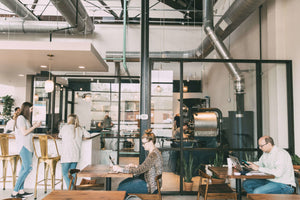 When we signed the lease on our Armour Yards roasters and
coffee bar
, our landlords were adamant about us operating on the weekends. But we were reluctant. We worked some language into the lease that would allow us to close for the weekends if, after a few months, we saw no traffic. Back then, we closed at 3 p.m. on weekdays and 2 p.m. on weekends. If you've been by our coffee bar on a Saturday or Sunday in the last year, you probably had a hard time finding a seat. It's been mayhem, and a very pleasant surprise. We're honored to serve so many of our neighbors (and out-of-town passersby) the most excellent coffee we can roast and prepare. The busyness is humbling. And we want to meet demand. So, starting tomorrow, Sunday, March 1, we're staying open until 5 p.m. everyday. Here are our new hours:
Monday-Friday: 7 a.m. to 5 p.m.

Saturday & Sunday: 8 a.m. to 5 p.m.
Let's hang out more! Come on by.
PS: Don't forget – we cup coffee every Saturday at 10 a.m. Read more >