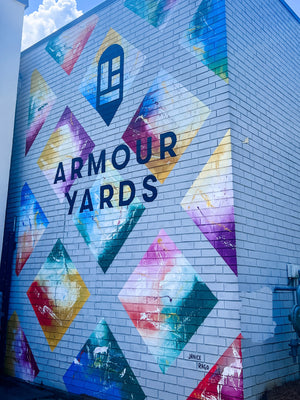 Our Cool Neighbors: Armour Yards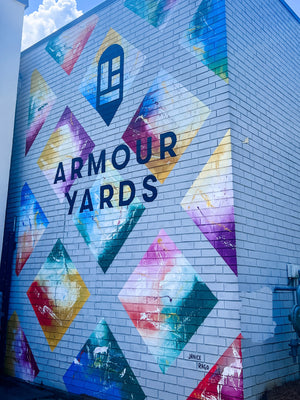 After casually sipping on an Ethiopian pourover or one of our seasonal beverages at our Armour Yards coffee bar, you may be on the hunt for a taco, a brisket sandwich, or homemade burrata. Luckily, the neighborhood has a lot to offer these days!
Here are just a few of our favorite, coolest neighbors:
If you're in the mood for a different kind of beverage, we recommend visiting ASW's beautiful whiskey tasting room just down the street. They host ticketed tastings and tours, and allow walk-up visits as well. Also, fun fact: we currently rent some storage space from Jim and the ASW folks and, way back in the day, we roasted in the back of this building and hosted pop-ups in their green space. 
(Expert opinion: A bag of East Pole and a bottle of ASW's Fiddler Bourbon make a really excellent gift.)
Visit this amazing cheese shop once, and you'll be hooked. Fortunately for our staff, it's right across the lobby from us. Raymond and the Capella team are super friendly and knowledgeable and have added something lovely to Armour Yards. (And they have a lot more than just cheese!)
Housemade bread, pastries, sandwiches, jams, drink mixes, and desserts, local cheeses, amazing wine – what more do you need to know? Ok, here's a little more: #fancycroissantfriday. 
Open Wednesday-Sunday, 8-7.
Fox Bros. Bar-B-Q's hidden gem is down "the loop" from us (as we call Ottley Drive), an unassuming but very charming kiosk selling their best-selling menu items  right out front of their catering headquarters. The smell speaks for itself. 
Open Wednesday-Sunday, 11-6. Outdoor seating only.
One of the best things about LR is that everyone has a favorite menu item. For some, it's the (very spicy) chicken wings. For others, the Torta Diabla. The Superica salad is this writer's personal favorite, and that's not even mentioning the main event: the tacos! Also, don't sleep on the brunch menu. One word: hotcakes. (And grab a cup of drip coffee while you're there... It may taste familiar.)
Grindhouse makes one of the best burgers in Atlanta. It also has a really fun vibe, great cocktails, and some of our favorite sweet potato fries in the city. Stopping by for weekly trivia, a Euro-style burger, and a cinnamon toast crunch milkshake makes for a great Monday night.
Considered to be Atlanta's first Japanese restaurant, Nakato, has been serving hibachi and sushi to Atlantans since 1972! The original owner's granddaughter now runs the restaurant, keeping it as committed to hospitality and quality as ever. 
Dinner service only.
Speaking of Atlanta traditions, this classic bowling alley has been around since 1960. With its retro aesthetic, full bar, and late hours, it's a fun place to have a memorable celebration.  
Open Wednesday-Sunday.
 ///
Keep an eye out for guides to our two other neighborhoods, Atlanta's Poncey-Highland and Birmingham's Parkside District, coming soon!